Ride with the Lions
CANCELLED!!!
This years Ride with the Lions on SUNDAY 11th August 2019 has been cancelled due to issues out of our control.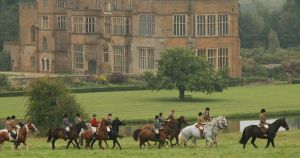 2019 we have had to cancel our annual Horse Ride.
Team Grace https://www.teamgrace.co.uk and Riding for the Disabled https://www.rda.org.uk/
The ride covers 10 miles of Oxfordshire countryside, starting and ending at Broughton Castle, and includes free entry to the Swalcliffe Park Equestrian Centre cross country jumps.
A short route is also available (although this does not go as far as Swalcliffe).
Date: Sunday 11th August. CANCELLED
For any queries, please email: horseride@banburylions.co.uk

Click to see a video of the 2017 event:

Below are comments from some satisfied customers:
'We just wanted to say thank you to everyone for a fantastic fun ride yesterday. It's the second time we've been (1st time was 2010) and it was great having access to the cross country jumps – especially as there were lots of little ones for those of us who are not very brave over jumps
The ride itself was fabulous, no road work and loads of places to canter. The signs meant you couldn't possibly get lost (unlike lots of other fun rides where the signs are non-existent!) and there were loads of people helping out on opening gates etc. which made it so much more fun
Brilliant ride, fabulously organised – definitely the best we've been on. I hope you've managed to raise the amount of money you were aiming for as you all deserved to do so'
'Just a quick e mail to say a huge thank-you to you and your team for making the fun ride yesterday, such a great experience.

We had a lovely afternoon - many thanks for all the hard work that made it happen!'